Have you ever wondered how large trees are moved across long distances?
Moving a specimen tree from one place to another requires planning and preparation. When traveling through city streets, under bridges, and across many miles of open road, we need the cooperation of several departments to ensure a smooth transfer. We study the possible routes to take and the speed of the truck, not to mention the proper preparation of the tree for its safe transplantation.
Join us on a tour of how large trees are moved across long distances and the projects we have undertaken throughout the United States.
Moving Large Trees: Precise Planning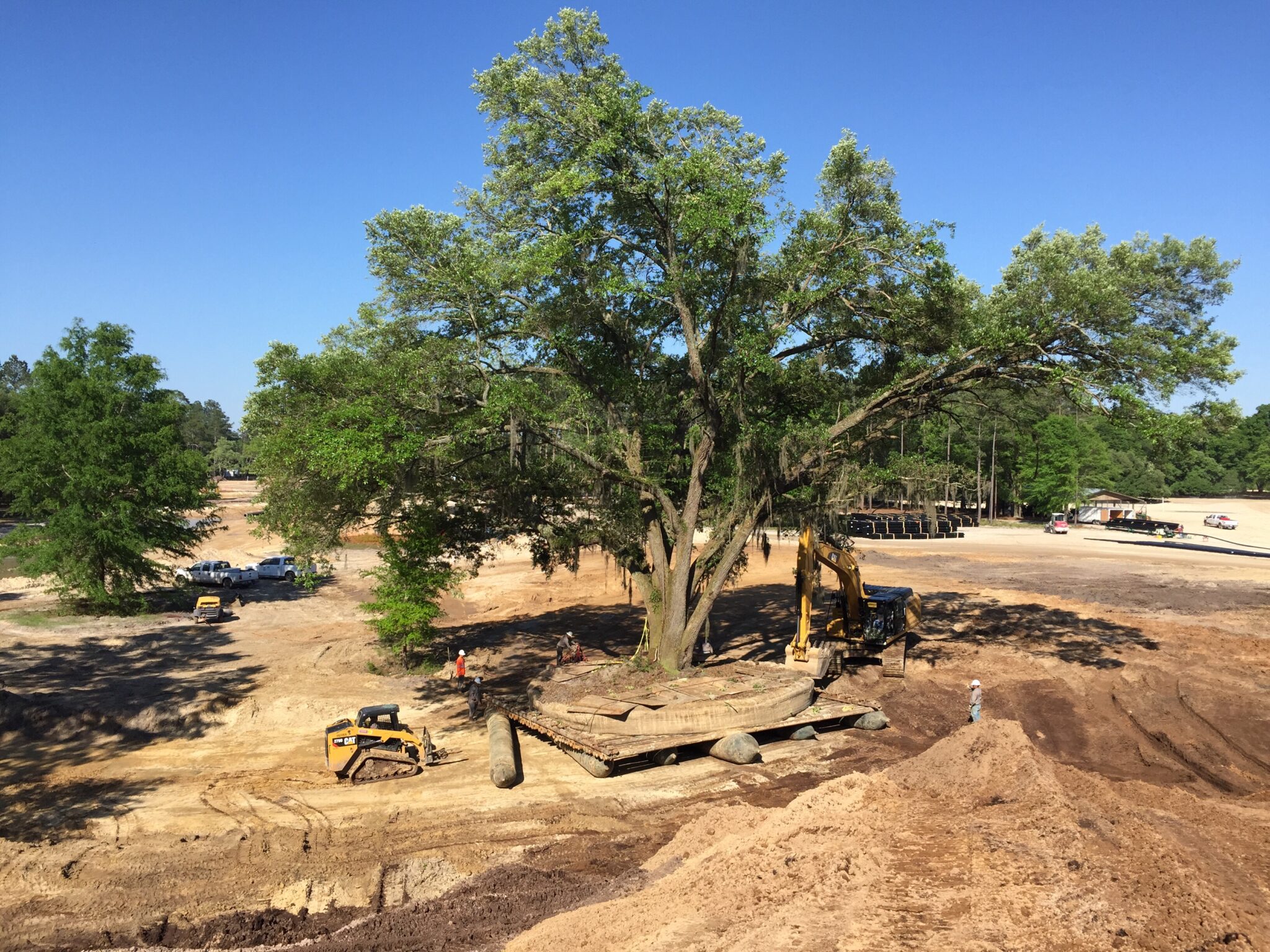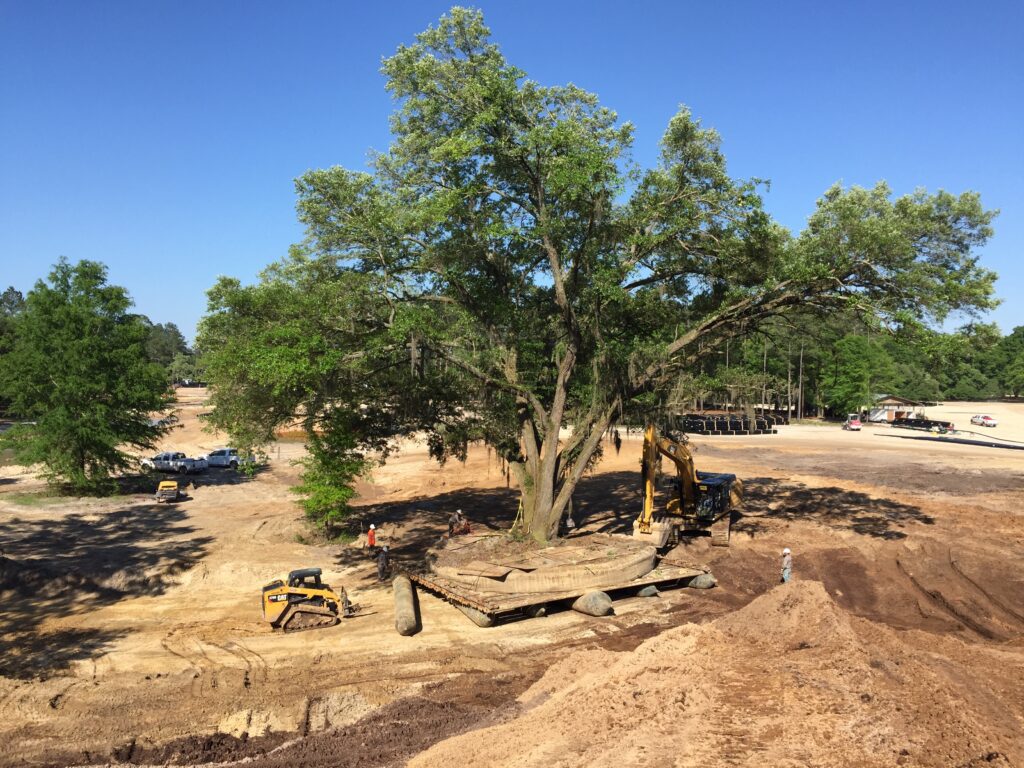 Once we are hired to move a large tree across a long distance, we start pinning down the itinerary we will be taking to move the tree.
Horizontal and Vertical Obstacles
We look at all the parameters that influence such a transplantation. We need to make sure there are no horizontal or vertical obstacles in the journey. For example, we have to avoid narrow roadways since our truck or blade will not fit through. We don't want to hit any walls, lamp posts, or shop signs as we drive through!
In 2014, we were asked to relocate a giant Bur Oak at the University of Michigan. Our itinerary was complicated by a very narrow path we had to take to move the tree, but we successfully managed the tree relocation and the tree is thriving in its new location.
Overhead Utilities
Likewise, we need to remember overhead utilities: power lines, phone lines, lights, and other overhead utilities are potential obstructions. A tall tree carried on a truck would cut through these utilities, causing havoc in the neighboring area—and possibly damaging the tree as well.
Traffic Lights and Traffic
Traffic lights are another issue to keep in mind. If we need to go through heavy traffic with traffic lights, we need to coordinate with the local authorities to temporarily switch off the lights so the truck can pass through. Often, we need to halt traffic altogether until the truck has gone. When we moved Mr. Al (a live oak) in Louisiana in 2011, the authorities had to shut down the highway for two hours for our truck to pass through.
This means we need to alert ambulance authorities, firefighters, and other crucial services about the change in traffic and traffic lights and let them organize alternative itineraries for their service vehicles.
Even if we don't go through heavily populated cities and towns, bridges pose a serious obstacle. Our truck cannot pass under bridges. Mapping an itinerary that bypasses all bridges requires a lot of skill and heavy planning.
Uncommon Transportation Methods
There are some projects that require unusual transportation methods. For example, we once had to move a tree in Shelter Island, off the coast of Long Island. Access to Shelter Island is restricted to ferry boats. We needed to assess how all our equipment, trucks, and machinery could fit in the ferry boat before we could reach Shelter Island and move the tree there.
Tree Preparation for Moving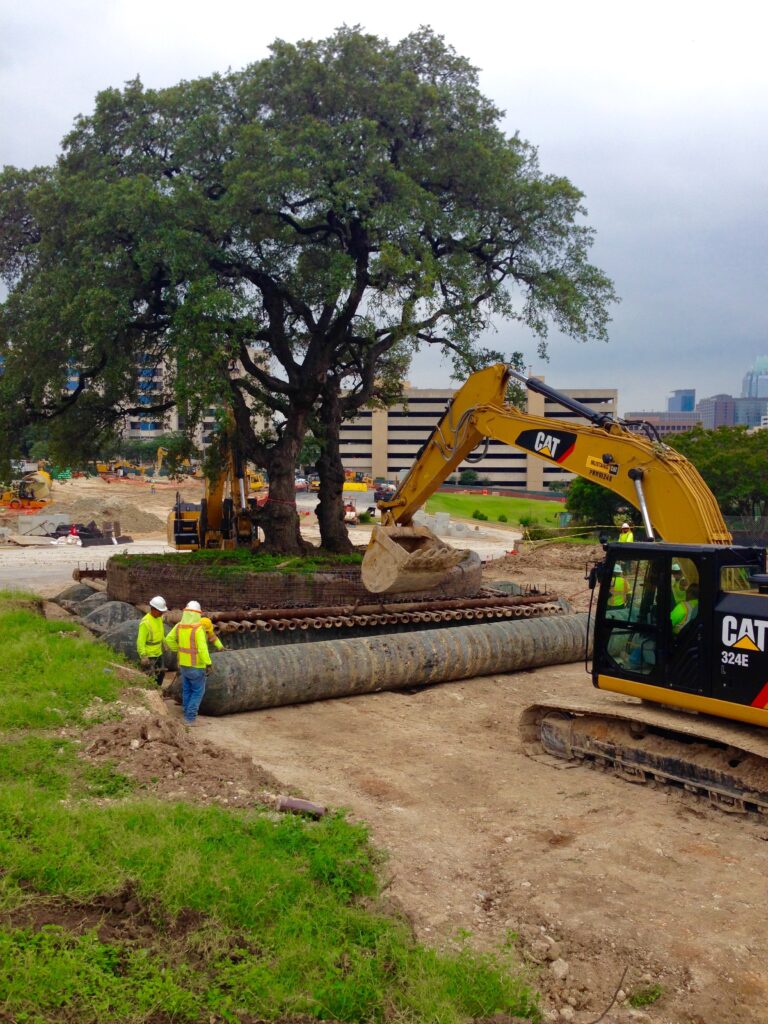 Aside from the practicalities of the transportation, we also need to take care of the tree's health and wellbeing.
Once we have used our tree blades to dig up the tree, we tie its branches together to make sure they don't break during transportation, particularly if the tree is traveling a long distance.
We also must ensure that the roots remain moist: we envelop the unearthed root ball with burlap and make sure the roots are well watered throughout the journey.
During transportation, the tree must be solidly attached and secured on the truck. High winds when driving could displace it and shift the weight balance on the truck. That could prove dangerous for both the tree and the drivers, and we certainly don't want that!
Environmental Design Knows How to Move Trees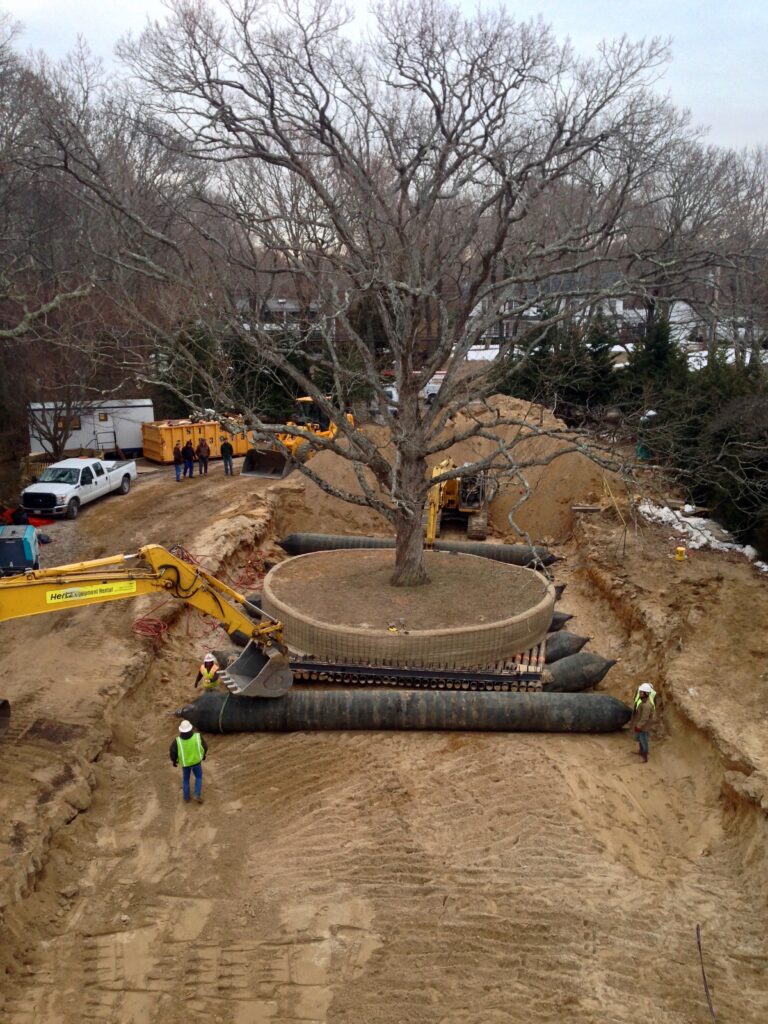 Our EDI teams of technicians and arborists want to protect and preserve all trees but especially giant trees. We wish to help them continue their life in a place better fitted to their needs. Technology, knowledge, and love for nature work together to build a brighter future for people and trees alike. Environmental Design helps developers and landowners increase the value of their investment while making the world a better place.
Whether you need a tree moved across a project development or across states, we have the equipment, crews, and know-how to move trees safely. If your landscaping project requires moving a tree, contact us today at (800) 376 – 4260 or visit Environmental Design Inc. online to start planning your project for successful tree moving and relocation. We have offices in Texas, California, and Minnesota, and move trees across the United States and even abroad.